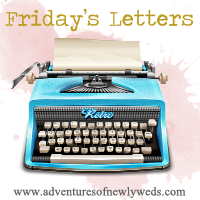 Linking up again!
Dear Friday,
Wow really, you're here already? I mean, I'm so happy you are, but man this week just flew by!
Dear Funk,
SO glad you're
gone
. I was so over you. Hope you stay away, forever maybe?
Dear Pat Tillman 5K,
Guess who is not ready for you? Me. That's who. Well, I don't think Hubband is either, but, we'll see.
Dear Weekend,
Please go slowly. Please go slowly. Please go slowly. Please? No more blink-length weekends, mmkay?
Dear Army Wives,
I'm obsessed with you, but I can't decide if our relationship is healthy. I mean, you're always pulling me through an emotional roller coaster. Am I alone in this?
Dear Life,
You rock, don't let us forget to enjoy every moment of you.