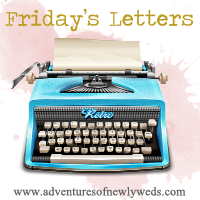 Dear Wedding Anniversary,
I simply cannot believe you're two weeks away. It seems like just yesterday we were saying "I do".
Dear Dentist,
I totally get your importance, but 1 cracked filling + 4 shots in the mouth + extremely sensitive teeth= yeowch!
Dear Body,
You're welcome. I knew you would appreciate 4 straight days of working you out plus a few weeks of staying on track with my calories. Now if you would, grow me some muscles in place of these love-ly handles. Please and thank you.
Dear England/Germany,
Holy cow. One month away? I think I'm in denial. I might want to start getting ready for this…
Dear Perfect House,
I know you're out there. Now please, oh please, let us find you this weekend. Please?
Dear Hubband,
I love you so, so much. And I love that you love your job and that you're working your tail off for it. I am so freaking proud of you. Also, maybe after you read this you can give me a back massage? No? Worth a shot…
Dear Weekend,
I just know you're going to rock.
Dear Lovely, Awesome, Super, Wonderful Blog/IRL Friends,
I hope you have a spectacular weekend!