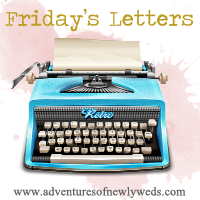 Those [Friday] Letters with Ashley!
Dear Walter (House),
the more we work on you, the messier you get. Not cool man.
Dear couches,
I have four of you now. THREE OF YOU MUST GO THIS WEEKEND. *Crosses Fingers* *and toes* *and legs*
Dear Garage Sale,
You're my first EVAAAARR. Like totally. But seriously, I'm nervous. What if no one comes?! What if no one buys anything?! What if we have four couches forever?!
Dear Ikea,
I think I have an addiction. I keep wanting to go back to you, but this isn't a good idea, as we're we-just-bought-a-house-broke. Do they have meetings for this..? Or..?
Dear CFLs,
I can already see in the meter-reads, that you're lowering our power consumption and therefore bill. Whoop whoop!
Dear Huzzband,
You're the bomb-diggity. Thanks for everything you do.
Dear Wife,
I love you soooo much! I love your hair, and your eyes, and your smile, and your meals, and your hugs!
Dear Sticky Notes,
You make remembering things so much better! I can easily jot down a note or a phrase that later reminds me: "Oh yeah! I need to call my dentist." Thanks for being there for me!
Even a couple in a mess, think they're super blessed.