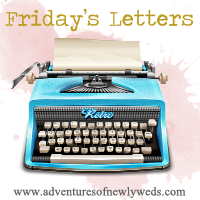 Linking it up! With Ashley!
Hey! I'm back! Just now! And I'm already posting! Well, okay, I got in at 9PM on Wednesday, which is basically Thursday. And everyone knows you need a day.
Dear Vacation,
We had a good run, one of the best times in my short life, but I'm sort of glad you're over. This girl loves a little routine in her life.
Dear San Francisco,
You are a happy, wonderful place with splendid things like Chinatown, but you're cold. Who knew?
Dear Hubband¸
You sure do give a girl something awesome to come home to.
Dear You Tube,
Stop stealing my life away. So rude.
Dear Everyoneinthewholewideworld,
I'm hearing about Christmas a lot [everywhere] which is awesome but hey it's still triple digits here, so, yeah…

But really… it's not far off. Yikes! Anyone know where 2012 went?
Dear Arizona Monsoon Season,
Oh, there you are.
Love,
Just the wife this time.
P.S. Everyone. Coming home from a vacation on a Wednesday (which is really basically Thursday) and therefore only having 2 days of work = the best thing ever. It's already Friday!